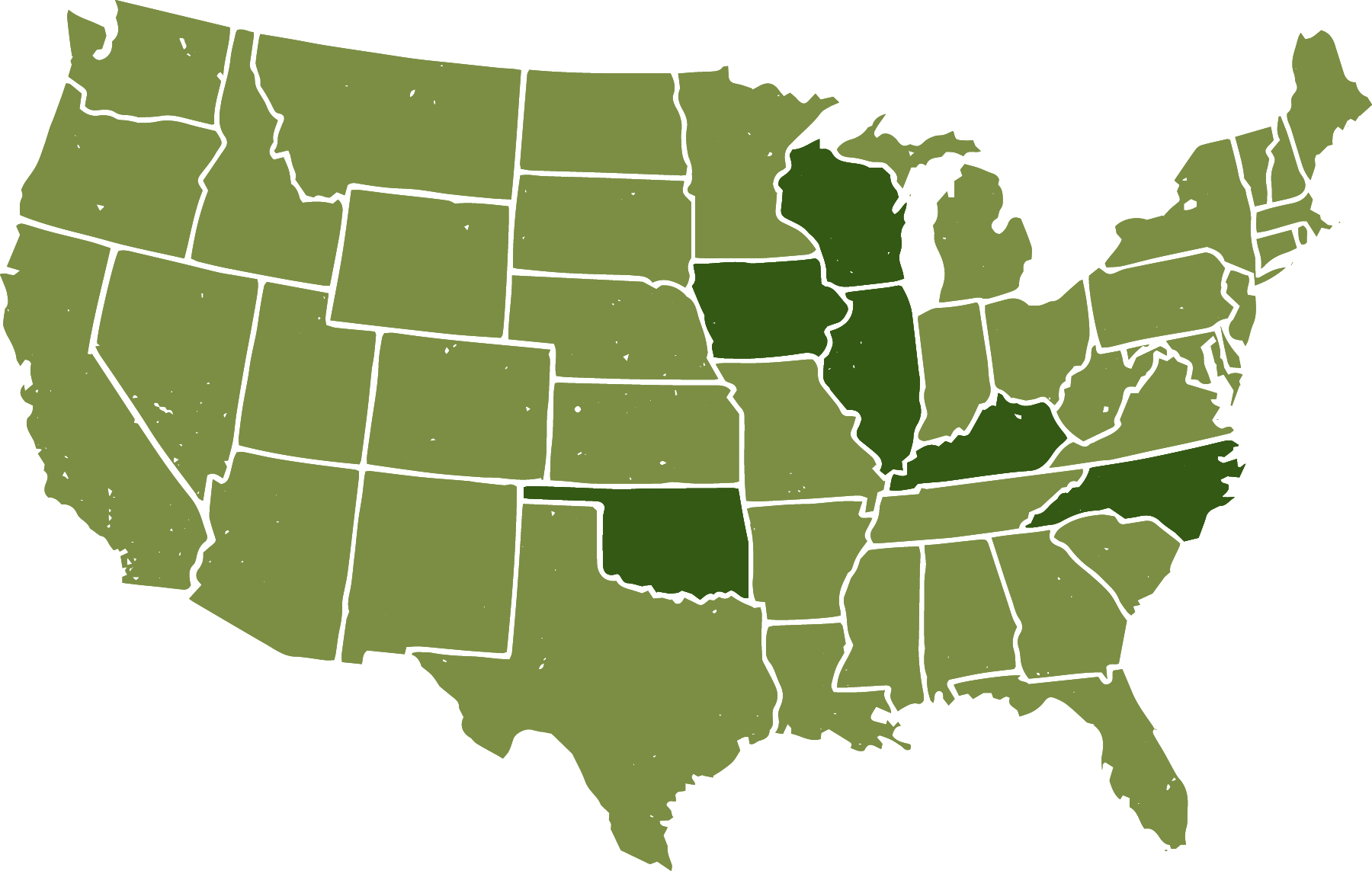 COMMUNITY
As part of our commitment to our Communities, The HANOR Family of Companies and team members generously donate time and money to local charities and community organizations.
At every point in the production process, we try to be good stewards of the farmland and of the communities in which we operate. After all, we and our team members live here, just as you do.
In the State of Wisconsin:
AASV Foundation 2013 Auction
AASV Prize Donation
Alzheimer's Association
American Cancer Society
Avoca, WI Fire Department
Avoca Fisheree
Christ's Hope
Community Safety Net
Community theater Association
Easter Seals
First Lutheran Church
Hope and Homes for Children
Ithaca Yeabook Gold Sponsorship
Jordana Stuntebeck Environmental Conservation Program
Kops for Kids
Lone Rock 4th of July Celebration
Lynch Family Foundation
Make-A-Wish Foundation of Wisconsin
Memorial Sloan-Kettering Cancer Center
Midwest Division Annual Cancer Fund Drive
Muscular Dystrophy
National Cancer Research Center
Plain Home Talent Baseball
Platinum Supporter Memorial Sloan-Kettering Cancer Center
PROAG
Richland Center Fire Dept.
Richland Rejuvenates Thunder in the Hills
RV School Fair & Livestock Auction
Sauk Co Law Enforcement Offic. Assoc
Sauk Co Law Enforcement Support Kids Projects
Sauk County Farm Bureau Ag in Classroom & Ag Education Programs
Scholastic Achievement (R.V.H.S)
Shrine Circus Fund
Shrine Show Fund
Special Olympics
Spring Green Community Food Pantry
Spring Green Country Christmas
Spring Green Fire/EMS Dance
Spring Green Girls Youth Softball
Spring Green Knights of Columbus Golf Outing
St John's Fun Fest to Support the School
St. Jude Children's Hospital
St. Luke's Endowment Fund
St. Luke's Home & School Golf Hole Sponsorship
St. Luke's Parish Festival
St. Luke's School Golf Outing
St. Mary's Walk for Virtues
The Education Study
Wisconsin Pork Association Gold Level Spnsorship
Wisconsin River Runners
Wisconsin Appeal Drive for March of Dimes
Wisconsin Badger Camp
Wisconsin Rural Youth Scholarship Fund
Wisconsin Pork Association
Wisconsin Agribusiness Council
Wisconsin Agribusiness Foundation Auction
Wisconsin Farm Bureau Federation
Wisconsin Special Olympics
Wresling Club
In the State of Illinois:
#1 Booster Club
American Cancer Society
Apple Creek Abate Kiddy Carnival
Beta Sigma Phi Annual Easter Egg Hunt
Boyd Healthcare Services
Carrollton After Prom
Carrollton Lions Club
Carrollton Youth League
Carrollton FFA
Carrollton HS Yearbook
Equipt and military funerals
Explorer Post 2000
Greene County 4-H Extension
Greene County Agricultural Fair
Greene County American Cancer Society
Greene County Days
Greene County Days, Inc
Greene Country Farm Bureau Foundation
Greene County Fair Book
Greene County Relay for Life
Greene County Venom Girls Travelling Softball Team
Greene County Patriotic Calendar
Greene/Jersey Shoppers
Hawk Pride
House of Prayer Quarter Auction for Building Fund
IL Foundation FFA (Carrollton)
Jacksonville Community Deaf Club
Kane Legion
Lone Oak Public Golf Course
Lutheran Youth Fellowship
National Children's Cancer Society
North Greene After Prom
North Greene FFA Annual Ag Education Day
Our Redeemer Lutheran Church
Roodhouse Greene Co. Days
Royal Publishing
Special Olympics of Illinois
St John Church
St John the Evangelist Church
The Chloe Foundation
WeBE Ink Carrolton Khourney Boys Baseball Team
White Hall Lion's Club
Whitehall Elementary PTO
Whitehall National
Winchester Post Prom Drug/Alcohol Free Party
Xi Kappa Eta Chapter

In the State of Kentucky:
Franklin-Simpson Renaissance, Inc.
Franklin-Simpson FFA
Habitat for Humanity
Kentucky FFA Foundation, Inc.

In the State of Iowa:
Buckeye Fire Department
Exhibitor of Grand Champ 4H Hog
Iowa Foundation for Agriculture Advancement
Special Olympics of Iowa
In the State of Oklahoma:
American Legion
Ames Day Event
Ames Fire Department Ames Day Celebration
Ames "Vipers" Little League Baseball Team
Billy Jack Trotter Garfield Co. Livestock Show
Boy Scouts of America
Chisholm After Prom Committee
Chisholm Young Farmers Trophy Auction
Cimarron After Prom Committee
Cimarron FFA members sale at Major Co Livestock Show
City of Kremlin July 4th Community Event
City of Mooreland
DAV NWOK Chapter 66 Hole Sponsorship for Charity Golf Tournament
Drummond FFA
Drummond Young Farmers
Ducks Unlimited
Dwight Boeckman Foundation
EJRT (Enid Joint Recreation Triad) Baseball
Enid Girls Baseball Team
Enid Regional Development Alliance
Grand National Quail Club
Grand National Quail Hunt
Hennessey School Foundation
Jet Fire Dept
Kingfisher Co. Jr Livestock Auction Premium for Gage Zelnicek
Kingfisher County premium Sale
Kremlin Hillsdale Academic Foundation
Kremlin Wild Hourse Gang
Garfield County Sheriff's Office for L.A.W. Publications Drug Education
Lahoma Luthern Church
Major Co. Fair Board
Major County Bonus Auction
Meno Fire Department
Meno Lutheran Church Fund Raiser
Mojo Sports, LLC (Team Hennessey Eagle)
Mooreland Firefighters Association
Mooreland July 4th Celebration
Mooreland Stock Show Association
Mutual Firefighters Association
North Enid Lions Club
Northwest District 4-H & FFA Swine Show, Enid OK
Northwestern District Junior Livestock Show Premium for Baylor Ewbank
Northwestern District Junior Livestock Show Premium for Jennifer Bedwell
Northwestern District Junior Livestock Show Premium for Jill Mencke
Northwestern District Junior Livestock Show Premium for Tyler Trotter
NW District Amatuer Softball
NW District Livestock Premium
Northwest Oklahoma University
NW State University
OK Depart of Wildlife Conversation
OK FFA Foundation, Inc.
Okeene Chamber
Oklahoma Alumni Association Fundraiser for Dr. Pollard
Oklahoma Alumni Association Fundraiser for Enid Packing Company
Oklahoma State University
Pioneer High School
Pioneer Lions Club
Pioneer Parents for a Safe Prom After Prom Event
Red Dirt Cookoff
Red Dirt BBQ Pork Giveaway
Ringwood 4H & FFA Booster Club Donation for Local Livestock Show
Sharon Community Firefighters Association
United Way of Enid
USDA Arts Donation
USDA-ARS Livestock Issues Research Unit
Vance Air Force Base
Veterans of Foreign Wars
Waukomis FFA
Waukomis Fair Board
Waynoka FFA & 4-H Boosters
Woodland Volunteer Firefighter Assocation
In the State of North Carolina:
American Heart Walk
Andres Family Reunion
Arlington Baptist Church Homecoming
Beatrice Sharpe
Brentwood Church
Coopers School
Double Tree Customer Appreciation Christmas Party Raffle Prize
Eagle Scout Jason McConnell
Edgecombe Comm College
Edgecombe County Sheriff's Department
Edgecombe Martin EMC
Elm Grove Catholic Church Youth Group Fundraiser
Express Employment Services Plate Sale
Faith Family Worship
FBI
FCS Athletics Fundraiser
FCS Baseball Team
First Baptist Church – Homecoming
First Christian Church Community Event
First Christian Church Homecoming
First South Bank Customer Appreciation Lunch
Fraternal Order of Police
Full Circle Mobile Vet – Goat Association Banquet
Galax Youth Ministry
Gateway Convention Center Emloyee Award Day
Gateway Convention Center Doubletree Raffle
Harrison Family YMCA
Hendricks General Contractors – Employee Luncheon
Hobgood Cotton Festival – Raffle
Howard Memorial Presbyterian Church
Jones Family Benefit
Junior Womens Club
Legget Baptist Church – Community Outreach
Leggett Fire Department
Maximino Luciano – Soccer Tournament Sponsorship
MB Hubbard High School
Memorial Baptist Church
MS Walk Fundraiser
Nash Arts Council
Nash Rocky Mount Rotary Club
Nash County Relay for Life
NC Highway Patrol
North Carolina State University
Northside Community Church
Pierce Reunion Fundraiser-BBQ Chicken Plate Sale
Pittman Grove MB Church Homecoming
PNC Relay for Life Team – Cancer Research Fundraiser
Prince of Peace Church
Red Oak Baptist Church
Red Oak Baptist Church Fundraiser
Red Oak Baptist Church Youth Project Plate Sale
Red Oak Boy Scout Troop 16
Red Oak Fire Department
Relay or Life
Rhonda Mayer Fundraiser Event
Rocky Mount Academy
Rocky Mount Academy Fall Festival
Rocky Mt. Police Department
Shenandoah Baptist Church – Friends and Family Day
Southern Nash High School Fundraiser
Speeds Big Day
Tar River Wine Festival Fundraiser
Tarboro Police Department
Thompson Chapel Church-BBQ Plate Fundraiser
USA Wrestling Group Fundraiser
Virginia Tech Vet Program
Wakefield Central Baptist Church Community Event
Whitakers Fire Department Community Event
Whitakers Founders Day
Whites Chapel Church Homecoming
Wilson County 4th Support Donation – Livestock Show
Youth Community Outreach